12 Must-Read Science Fiction Comics
|
<!– google_ad_section_start –>
Science Fiction is Thriving in Comics

We're not exactly sure why, but 2015 was a fantastic year for science fiction comics. While you may be thinking that we're talking about Reed Richards and Tony Stark superhero science fiction, you'd be wrong!
There was a strange abundance of great sci-fi stories that had nothing to do with the superhero genre; just straight up science fiction.  If you missed them, we really recommend you check out.
Here are the dozen science fiction series and graphic novels you need to know about:
1) Space Riders
A psychedelic space adventure that looks like the 1970s took place four centuries from now, Fabian Rangel and Alexis Ziritt's Space Riders is classic science fantasy. Captain Peligro and the crew of the skull-headed spaceship Santa Muerte (see image above) travel the galaxy, fighting the evil Norrax Armada, hunt the bastards who took Peligro's eye and left him abandoned in space, and basically travel a vivid, brightly colored galaxy that looks like it came directly out of Jack Kirby's id. Not to be missed.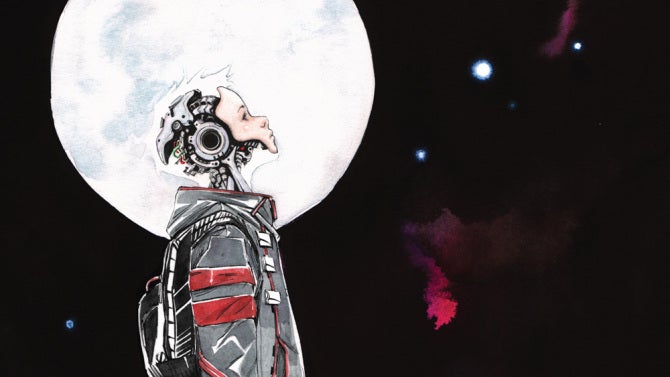 2) Descender
A comic book has to be pretty damned phenomenal to get a movie deal before the first issue gets published. Rest assured that Jeff Lemire's Descender really is that good. Set in the far distant future, a galaxy-wide attack by giant, mysterious robots has caused all androids to be outlawed. But on a distant moon, a young android named TIM-21 wakes up to embark on a cosmic odyssey where all of humanity fears him. With hints of Astro Boy, The Iron Giant, and several classic scifi stories, Descender is still unique and mesmerizing, and perfectly and hauntingly rendered by Dustin Nguyen. If there's one comic you need to be reading in 2015, it's Descender. (Image)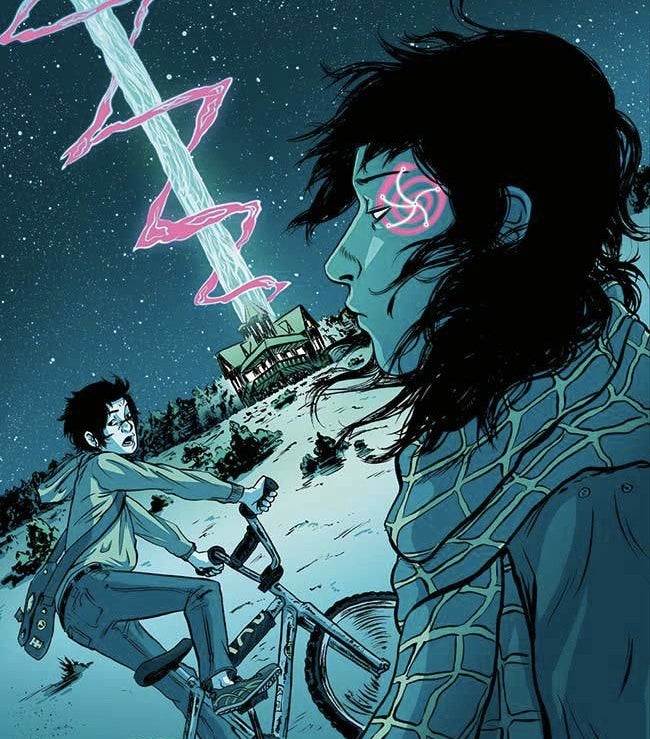 3) UFOlogy
If Steven Spielberg had devoted himself to comic books instead of movies, then it's possible he would have created UFOlogy instead of E.T. or Close Encounters of the Third Kind. Instead it fell to James Tynion IV of the hit suspense series The Woods to write about two kids from a small Midwestern town who encounter an alien… but that's when the real mystery begins. It's an otherworldly scifi tale presented through two young, very real characters, and the dichotomy is just part of what make UFOlogy so special. (Boom Studios)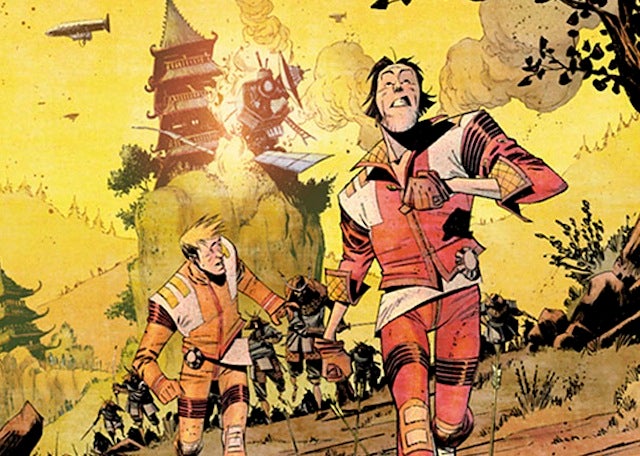 4) Chrononauts
Mark Millar may no longer be hailed as the savior of the industry, but if there's one story his sensibilities are perfect for, it's this story about two bros who travel through time, all for a live national audience. They might not be your normal scifi heroes, but their potential willingness to use their voyage for their own personal gain — again, while people at home watch them helplessly on TV — is intriguing to say the least, and the titular chrononauts Corbin and Danny ooze with personality, thanks to Millar's dialogue and fantastic art by The Wake's Sean Murphy. (Image)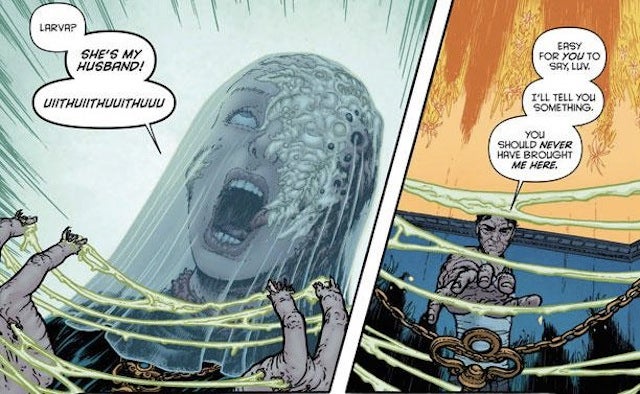 5) Nameless
Grant Morrison has never been shy about telling complicated, enigmatic stories, but in Nameless, he may have mastered the craft. Here's just a brief summary of what's in play in this sci-fi horror comic: flesh-eating parasites, magic keys, an insane astronomer who murder his family, a lady who shows up in people's nightmares, a secret society of billionaires worried about the future, a hustler/magician named Namless, and, of course, "the malevolent asteroid Xibalba" which is heading to Earth. Surreal doesn't come close to doing Nameless justice. We don't know where Morrison is going with it, but we can't wait to find out. (Image)
6) Divinity
Valiant has just been killing it with its relaunched superhero titles, but don't dismiss the publisher's other offerings — especially Divinity, the new series from Mind MGMT's Matt Kindt. During the US/USSR space race, the Soviets rushed a mission to send a man into the farthest reaches of space. Now's back, having inexplicably crash-landed in Australia decades later, with the powers of a god. What happened to him out there? What are his intentions now that he's back? Who can stop him? Divinity is only a four-issue miniseries, but Kindt may have already created Valiant's first superstar of the new millennium. (Valiant)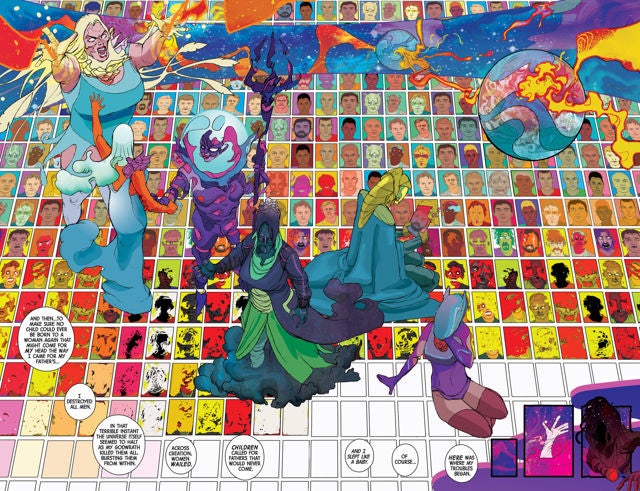 7) ODY-C
Matt Fraction and Christian Ward's psychedelic, "gender-broke" scifi odyssey has been blowing people away since it debuted late last year, and for good reason. This wild retelling of Homer's Odyssey — in which space captain Odyssia and her crew encounter cycloptean space monsters and deadly living narcotic Lotus Eaters — is a surreal, massively entertaining epic, which Fraction wrote for his four-year-old daughter when he realized DC would never let him write Wonder Woman. If that's not a reason to read it, I don't know what is. (Image)
Related:
8) Apocalyptigirl
Subtitled An Aria for the End Times, Andrew MacLean's post-apocalyptic original graphic novel hasn't gotten a lot of hype yet, but that should change soon. Why? Because Apocalyptigirl is beautiful, amazing, exciting, tragic and heartwarming — all while being an action-packed scifi epic. The tale of Aria and her cat Jelly Beans, as they search for a powerful ancient relic while fighting the savages of the future, is spellbinding, and practically cries out for an animated adaptation — that is, if animation could possibly match MaCLean's fun, haunting artwork.This is the story against which the genre will be judged from here on out. (Dark Horse)
9) Kaptara
Chip Zdarsky has been killing it on Howard the Duck and Sex Criminals, but don't dismiss Kaptara. This wild, ridiculous adventure comic — which Zdarsky describes as inspired by playing with all of his varied 1980s action figures as kid, but also as "Gay Saga, just to get more sales" — Kaptara is your standard space-mission-goes-awry, crash-lands-on-mysterious-alien-planet tale, except the inhabitants of said planet range from psychedlic space moose to beaver ladies to an over-inspirational floating orb thing. But amidst all the action and silliness, Zdarsky and artist Kagan McLeod have created a protagonist in captain Kanga whose same-sex romances genuinely develop and matures though the course of the series. It's like if Captain Kirk was a genuinely decent romantic partner to the countless aliens he bedded during the original Star Trek series. And everyone was gay. (Image)
10) HaloGen
As an agent for the HaloGen organization, agent Rell has been on many bizarre and deadly missions. But none of them have ever been weirder than this — find the corpse of the giant god, rumored to be floating around somewhere in cosmos. Eisner award-winning webcomics team Josh Tierney and Afu Chan (Spera) collaborate again to bring forth a new, butt-kicking heroine in this quirky, cosmic adventure. (Boom Studios)
11) Roche Limit: Clandestiny
Michael Moreci returns to last year's best-selling scifi epic Roche Limit in this second installment in the trilogy, set 75 years after the first volume's explosive (literally) conclusion. Now, a new crew of scientists and soldiers investigate the ruins of the Roche colony, but there are still secrets to discover and plenty of danger remaining. If this sounds a bit like Aliens, this is totally intentional — but rest assured the new characters of Clandestiny wish they'd only have a Xenomorph Queen to deal with. (Image)
12) Bitch Planet
We've mentioned the glorious, women-in-space-prison comic by Kelly Sue DeConnick before, and suffice to say its only gotten better since it debuted last December. While based on the sexploitation flicks of the '70s, DeConnick has created a rollicking, badass, exceedingly feminist action comic that somehow never feels exploitative. In fact, the widely varied inmates of the prison outpost non-affectionately known as "Bitch Planet" are completely compelling, even as they're thrown into a violent setting in which none of them may survive. A surefire candidate for one of the best comics of the year (Image)
---
courtesy of i09
<!– google_ad_section_end –>